Shree Parshwanath Jinalay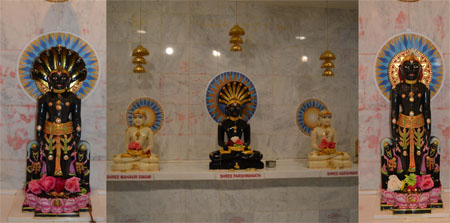 In 1981 Jain Center of New Jersey (JCNJ) bought a property at 233 Runnymede Road in Essex Fells and renovated it to establish a Derasar. It is popularly known as Caldwell Derasar due to its proximity to the larger town of Caldwell. In 1982, three Pratimajis – Mulnayak Shree Parshwanath, Shree Mahavirswami, and Shree Adinath were installed and Pratistha was performed in the presence of Gurudev Chitrabhanuji and Acharya Shushilmuniji who provided inspiration and valuable guidance during its formative years.
During 2007-2009, Activities at Caldwell Derasar as well as Pathshala at multiple locations continued to expand. Attendance at Caldwell Derasar was steadily increasing. Enrollment in Pathshala classes and Samuh Samayik was rising. During 25th anniversary of the Caldwell Derasar, The Jirnoddhar project included the addition of Bhamati, internal Sikhars, Gokhalas for Dev-Devis, and space for two additional Pratimajis. The Jirnoddhar of Caldwell Derasar was completed in 2009. Pratistha of the three original Bhagwan, new Pratimaji of Shree Shantinath and Shree Nageshwar Parshwanath, Dev-Devi Pratimajis, was celebrated with great enthusiasm in July 2009.
Mulnayak
Shree Parshwanath Bhagwan
Shree Rushabhdev Bhagwan
Shree Mahavirswami Bhagwan
Shree Shantinath Bhagwan
Shree Nageshwar Parshwanath Bhagwan
Timing
Morning
Weekdays: 10:00 am to 12:00 pm
Weekends: 8:00 am to 10:00 am
Evening
Summer Months: April to October

Sunday

Derasar Open: 4:00 pm to 7:00 pm
Aarti: 7:00 pm

Winter Months: Novemebr to March

Sunday

Derasar Open: 3:00 pm to 6:00 pm
Aarti: 6:00 pm
Contact
For More Information, please contact:
Jinalay: 973.226.2539
Usha Gandhi: 201.303.9973
Jeegnesh Kothari: 973.216.6166
Kumarpal Shah: 862.571.5555
Dhiren Shah: 201.456.5731
Address
233 Runnymede Road, Essex Fells, NJ 07021
IMPORTANT: The timings and openings of the Jinalay may change from time to time. If you are visiting for Darshan or puja, and the Jinalay is not open, please contact anyone of the above mentioned individuals.